South Korea is considered to be a country with an extremely successful educational system. Over the last two decades, it showed the world what steps can be made to improve the level of education. In South Korea, pupils study in extended classes and spend more time studying than any other nation. It is not a secret that Korean students show great results on examinations, including the results of the Program for International Student Assessment (PISA) that ranked Korea top in all three areas (reading, mathematics, and science).
It is worth to mention that today nearly 86% of Korean students are enrolled in higher education. Though the primary and secondary enrollment rates since 1990 are near universal, Korea saw a rapid growth in primary and secondary education in the period from 1975 to 1990. There is also a commensurate growth in tertiary education that continues even today. There are several reasons that can explain such expansion, including economic growth in the county, the role of education in Koreans society and governmental support that promotes educational achievements.
Historical Influence
A long tradition of Confucianism has created a society where education was associated with the privilege of the top class of the social hierarchy. That is why Koreans associate education with wealth and well-being. People with higher education are highly respected in Korea.
With the course of time, thanks to South Korea education reform, the privilege of the highest class has become accessible for everyone. To become a civil servant in Korea, you have to pass the Kwageo, an examination that is free from consanguinity and political ties. Such democratization of talents pursues Koreans to do their best while studying as it provides students with the ability to transform their lives regardless of their blood.
What is more, the national drive against Japanese occupation has helped Koreans to realize the importance of accessible education. After Japanese left the country, approximately 3,000 private schools were opened across the nation in order to bluster Korean education system. Such step helped to recover the country after the devastating Korean War that nearly ruined its economy. It is worth to mention that the process of recovery was done through hard work of Koreans. What is more, it was done on Korea's own terms.
Investments
If you ask a person from Korea about the best way to invest money, the answer will probably be "invest in education". The thing is that rapid economic growth of the economy in the country showed Koreans the real value of education. The last two decades was a proof that investments in education provide people with a high rate of return, so instead of keeping money in a bank, Koreans prefer to spend them on education.
What is more, obtaining higher education in South Korea results in higher wages. For example, college graduates in this country earn up to 2.5 times more that people with a junior high school degree. It means that Koreans labor market is divided into segments and the most perspective segment welcomes graduates from colleges and universities. So for all people in Korea who want to enter the primary labor market, higher education is a must. Also, higher education in South Korea is often associated with positions of power and influence. It makes sense as three-fourths of the high-ranking government positions in the country are taken by graduates from the top Korean universities.
It is worth to mention that the government of South Korea supports the promotion of education by investing in it. About 10% of GDP in South Korea goes to formal, private and informal schooling. It is worth to mention that huge amount of investments are spent on supporting teachers. Teachers in South Korea have good salaries and are highly respected by the society.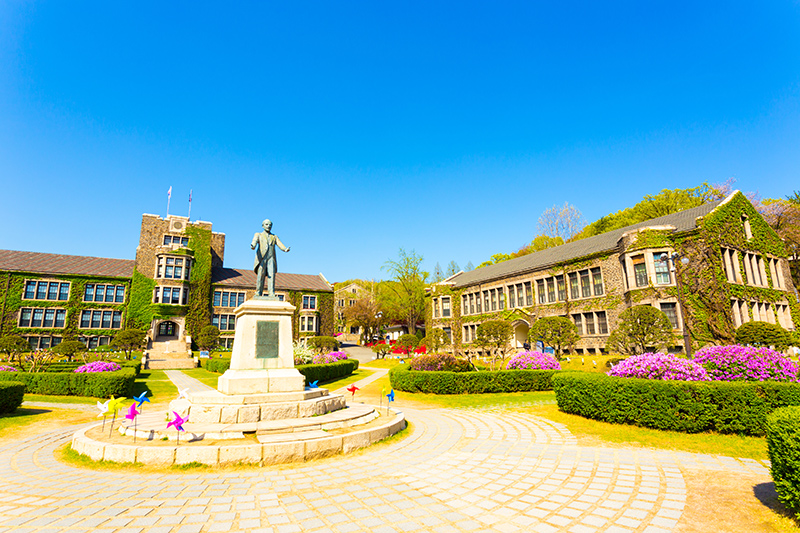 Teachers
Teaching in South Korea is a highly competitive occupation. It is not an easy task to become an elementary school teacher in South Korea, as there is a limited number of places and selective entry for students who want to go through teacher preparation programs. Selectivity means that there is nearly no competition for the position of an elementary school teacher. The number of candidates for this position is nearly equal to the number of teaching vacancies.
If you want to become a secondary school teacher, there are no limits. But the statistic shows that only 20% of graduates find employment as secondary school teachers.
The Korean Federation of Teachers Association (KFTA) is the central representative of the local teacher's associations that exist both at the city and province level. It is interesting to know that every year the KFTA meets with the Ministry of Education and Human Resources Development to discuss teachers' welfare.
Curriculum
Since 1954, the curriculum in the county was revised 7 times. Each revision was aimed to make it match the new rising demands for education, raising needs of the society, and new horizons of academic disciplines. The latest Seventh Curriculum update is aimed to prepare students for the knowledge-based, globalized 21st century. The best part of the new curriculum is that students can choose their own courses in their final two years of high school.
Current Challenges
Though Korean education system is considered to be the best in the world, there are some distinctive problems that still exist in the current system. For example, according to statistic, there is a great number of Korean students who have no passion for education. What is more, there are many students who hate schools as the process of studying is too intense and too stressful. That is why the government's Korea 2030 Commission tries to find the solution by making lifelong learning an integral aspect of Korea's continuing dynamism.